Technology is inching its way into every aspect of our lives, allowing us to use some of the favorite areas around our homes with ease and convenience. Motorized screens in your outdoor space are not only easy to use but add comfort and flexibility to your living space.
Do you and your family find yourselves not spending a lot of time in your outdoor space? Is this due to bugs, heat, or inclement weather? Motorized screens are a great way to close off your space and protect it from the elements. The appropriate screens can help make your space more comfortable while protecting you from bugs, UV rays, and dust or debris from the wind.
Why is it Important That Your Screens Be Motorized?
Incorporating automation with your screens is a smart and easy way to get the most from your investment. You can sync your screens to raise or lower at the same time as your lights, thermostat, and other automated features in your home. Here are some of the benefits.
Convenience
Instead of walking around to each screen and manually raising or lowering it, you can adjust all of them with the click of a button. Motorizing your screens allows you to adjust them all to the same length and can even help you adjust those that are hard to reach. The ability to control your shades at the touch of a button ensures you never are caught off guard when a stray shower or windstorm passes through.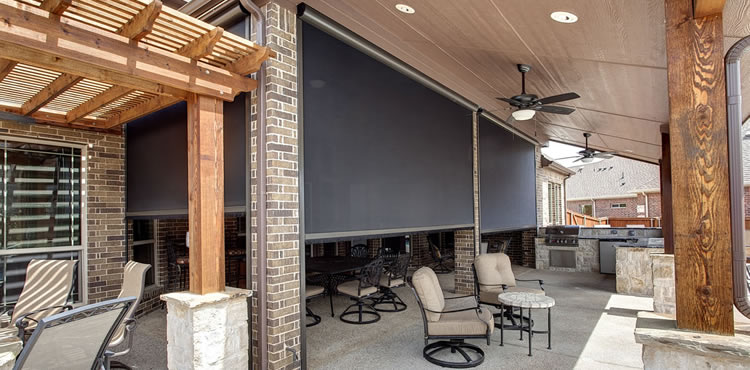 Decreases Your Energy Output
The use of Dallas motorized screens helps you keep extra sunlight out of your home, which raises the temperature and causes your air conditioner to work even harder. You can program screens to raise and lower to block the sun throughout the day.
More Private Space
By utilizing motorized screens, you are giving your outdoor area the option for more privacy. You have a choice in materials and colors for your screen, depending on the level of privacy needed to meet your needs. Keep your activities private with a dark-colored fabric or choose a clear material that provides full view. Motorized screens are an easy way to close off your outdoor area for a more serene, intimate setting.
Automatic with the Time or Weather
Your screens can be equipped to lower or retract with the weather. Sensors can determine if it is sunny or raining and will raise or lower the screens based on preprogrammed settings. You also can choose to have your screens automated to specific times of the day. This is a nice way to allow some sunlight into your home in the morning and then lower your shades when the sun is at its hottest. Blocking out the sun's rays also prevents your furniture from fading or cracking.
Increase the Value of Your Home
Adding motorized screens to your outdoor space will add value to your home. These screens will allow you to make the most out of your outdoor space and can increase the usable space around your home. They are also a plus to any potential buyers, giving them one less thing they might have to consider spending money on when purchasing the home.
Open Your Doors
When adding motorized screens to your outdoor living space, you are extending the usable square footage of your house. Install screens around your covered patio area or across your garage opening so you can open your doors and enjoy the outdoor space without the worry of bugs, weather, or harsh sun. Being able to open your doors and windows also means you can turn off your air conditioner and give it a break, which can extend the life of your unit.
Skip the Screen When You Don't Need Them
On days when the temperature is just right and the bugs are at bay, you can easily raise your screens. Whenever the rains move in or the winds pick up, however, you can rest easy knowing that protection is just a click away.
A Separation Between Two Areas
If you have a larger outdoor space, a motorized screen is a great option to separate the space when you want it separated. Screens come in a variety of fabrics and colors so you can choose the level of privacy you want when using the screen as a divider.
Motorized Screens in Your Dallas Home
Now that you know the benefits of having motorized screens in your home, where are some of the best places to use them?
Separate Your Patio from the Pool
If you have an outdoor pool area, motorized screens can create an enclosed area that can offer some relief from the sun. Close in a patio or porch area so you can take a break and relax for a post-swim meal.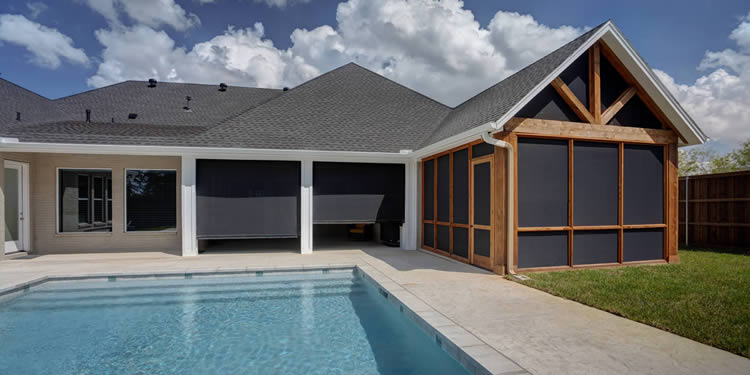 Close Off an Outdoor Kitchen
If your outdoor patio is equipped with an outdoor kitchen, you may find that you can only utilize it during certain times of the year. A motorized screen can help close in that space and give it some protection from the elements, allowing you to get more use of the kitchen, no matter the time of year.
Enclose the Area Under Your Deck
If your deck is high enough to build a patio underneath, motorized screens can turn that patio into a more private and usable space. Select a dark, heavy-duty screen to turn this already shaded area into a private space that features a hot tub or seating for several guests. Or you can install a lighter-weight or transparent material to create a play area that allows you full view of your children and prevents them from wandering off.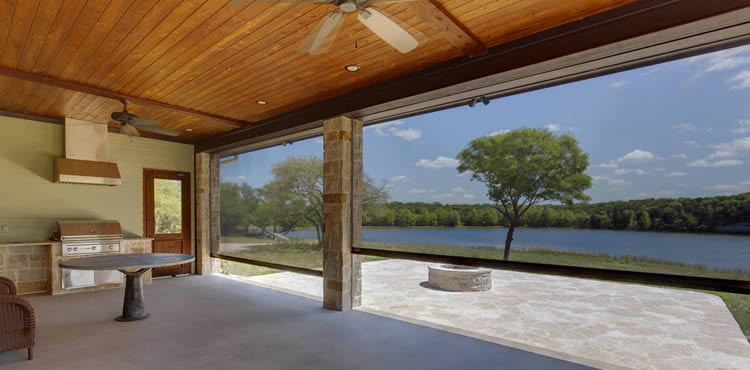 Motorized Is The Way to Go
No matter what area of your outdoor space you are trying to screen in or add extra shade and protection to, motorized is the way to go. The investment in motorized screens can boost your property's value by adding curb appeal and increasing your home's energy efficiency. Get in touch with us at Texas Shade and increase your living space – indoors and out – with motorized retractable screens.