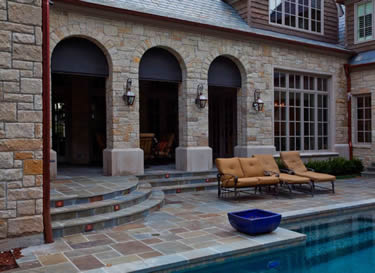 Motorized roller shades are a great way to enhance your outdoor living space. Here in the Dallas, Texas and surrounding area it may be the only way to even utilize that space due to intense sunlight and heat. Motorized screens are also a great option when keeping pests (insects) out or keeping a good portion of the heat from a fireplace or propane heater in. We have also installed many of these on the exteriors of windows/doors of homes that have a west or southwest exposure, as they effectively reduce light, heat, UV light and glare. This can reduce energy costs and protect furnishings and flooring. Our outdoor shading units are fabricated locally with the finest materials including powder coated aluminum components and rouged, exterior grade fabrics. Due to our construction background, we are the perfect choice for builders who want to offer these features to their clients and would like to integrate our product with the new construction process.
Benefits of Motorized Screens
Solar
Reduces heat, glare, and harmful UV light with ultra-durable, exterior grade fabrics and vinyl designed to provide 85%, 90% or 95% UV light blockage. Solar meshes can effectively help reduce air conditioning costs in the summer. Even with our highest solar rating you will be amazed at how well your view is retained from the inside looking out.
Pest Intrusion
Our screens are secured at both ends with our zipper-catch side channel system. A 1″ or 2″ brush pile provides excellent closure at the bottom – even on cross-slopes. This system effectively prevents insects from taking over your outdoor living space. And if you know Texas, you know that's a BIG deal!
Retain Heat
If you have an exterior heat source such as a propane heater or fireplace, our screens can help keep your outdoor living space warm by reducing heat loss. Selecting a tighter woven fabric will yield very good results.
Privacy
Our tighter woven fabrics provide excellent privacy from the outside looking in, but will not obstruct your view from the inside looking out. You will be amazed!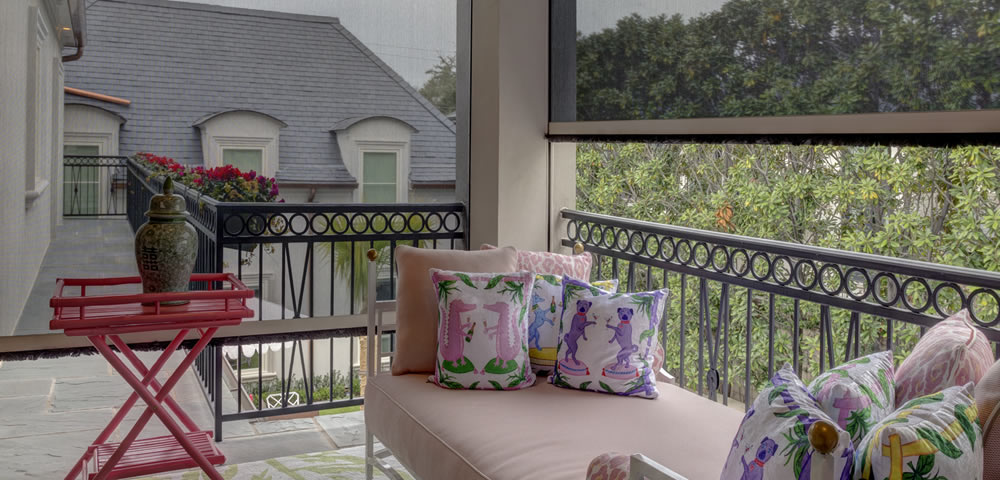 Features Of Our Outdoor Roller Shades
All aluminum components are powder coated for extreme durability. Housing and tracks come in 10 standard colors. Custom colors for exact matches are also available.

All screening material is heavy-duty, exterior-coated, synthetic fabric designed to withstand the harsh Dallas climate.

We have two types of tracks. One for new construction and one for retrofit (existing applications).

We use Somfy controllers. They are the best in the industry. A variety of power control options are available and they include remotes, wall switches, timers, and wind/sun sensors.